---
Roofline
Professional Qualified Roofline Installers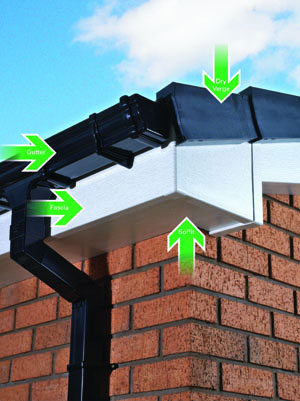 Our installers are professional tradesmen with years of experience in roof joinery & roof coverings on all types of building projects. We not only replace your fascias & roofline but also check for any rot or water ingress into your building that may not be obvious to the untrained eye or from the ground floor.
Project Procedure
FREE quotation, written contract, no deposit, 10 years parts & labour guarantee
Colour choice - 14 standard colours to choose from
Removal of all old fascias & roofline back to roof rafters
Check roof timbers for rot & splice in new where required
Check for water ingress e.g. broken tiles, defective flashings & brickwork
Strip back tiles on gable verges & install new battons & felt where required
Strip back tiles above gutter elevations & install plastic felt support trays
Install new quality fascias & roofline with HOMELINE products 15 year colour guarantee
Remove all rubbish and leave clean & tidy
Payment on satisfactory completion
Other ROOFLINE Products Available
uPVC cladding
Hanging concrete or clay tiles
Roof windows & light tunnels by "Velux" click HERE to view
Dorma construction to existing roofs
Lightweight warm roofs (can be retro fitted to existing conservatories)
For more details click HERE
G R P FIBRE GLASS flat roofs new & replacement
Seamless performance for maximum protection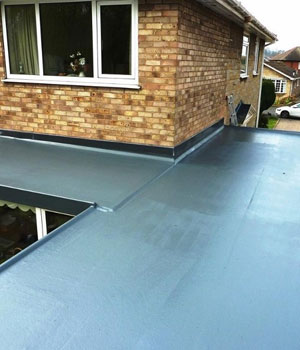 The Tuffstuff GRP flat roof waterproofing system utilises the very latest polyester resin technology to provide a tough and permanent solution to the age-old problem of leaking flat roofs.
Quality that lasts
Customers can confidently expect a lifetime of leak-free, maintenancefree protection from their Tuffstuff installation. The membrane's extremely hard wearing structure installed onto a new timber decking tolerates foot traffic and resists attack from ultra violet light.
Developed through 25 years' experience in the manufacture and installation of GRP flat roofing, TuffStuff is fully integrated - all components are designed to work with each other to produce a robust, heavy-duty membrane for faultless waterproof performance. With no seams or joints which are prone to leakage in other roof systems, TuffStuff's seamless membrane is formed in situ and fully bonded to the roof deck.
To demonstrate TuffStuff's durability every Contractor receives a 20-year Product Warranty and naturally he will take responsibility for his own workmanship.